What is Hair Patch Fixing?
It is the process of fixing hair patch in the hair loss affected area or bald portion of the scalp with the help of dermatologically tested hair adhesives and tapes and by integrating the patch hair with your own hair to give you a head full of hair which looks completely natural and undetectable.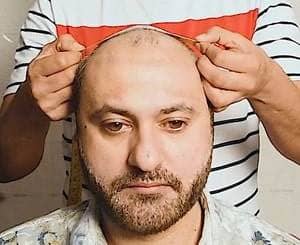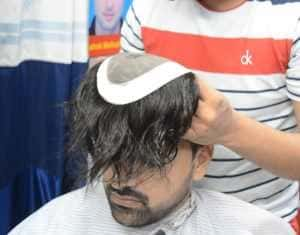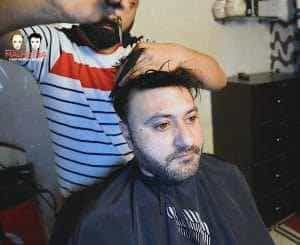 Perform All Day-to-Day Activities Without Any Hassle!
Types of Hair Patch Fixing
Hair Bonding

Monthly servicing is required in this method. Monthly service charges are Rs.600

Hair Patch Clipping

You can remove your hair patch daily with no maintenance at all.

Hair Patch Taping

You can self-maintain the hair patch at the comfort of your home with the help of tapes.
Why Choose Us?
4.9 star rating on Justdial

Started in 2014, Malhotra Hair Replacement has always been a top choice for customers on Justdial

225K+ subscribers on Youtube

Spreading awareness and sharing knowledge has always been a part of our journey which gave us the love & support of 225k+ subscribers on Youtube & made us the most highly watched channel in hair patch category with 85M+ views.

Highly ranked on Google

With a tremendous rating 4.7 ⭐️ on Google, we are always in talks of our customers.
We offer home delivery of pre-cut hair patches which are ready to wear!
FAQ's
What is the price of a hair patch?

Our basic hair patch starts from 10k and the premium qualities go upto 35k.
How long does a hair patch last?

Average life for a monofilament patch is around 10-12 months and 6-8 for lace base patches.
When do i have to visit for the servicing of my hair patch?

A client needs to get his servicing done between 3-4 weeks.
How many times do i need to shampoo my hair patch?

We recommend 2-3 times per week.
Are there any side effects of using a hair patch?

Absolutely Not! It is a non-surgical treatment with no medication involved. The products we use for fixing are also medically approved & dermatologically tested.
Can i self-maintain/self-service my hair patch?

Yes, we teach you how to do it but of course it will require some practice from your end as well.
What is Clip system?

Clip system is an option in which you can remove and wear your patch whenever you want. It does not require monthly servicing or removal you hair in the hairloss affected area.